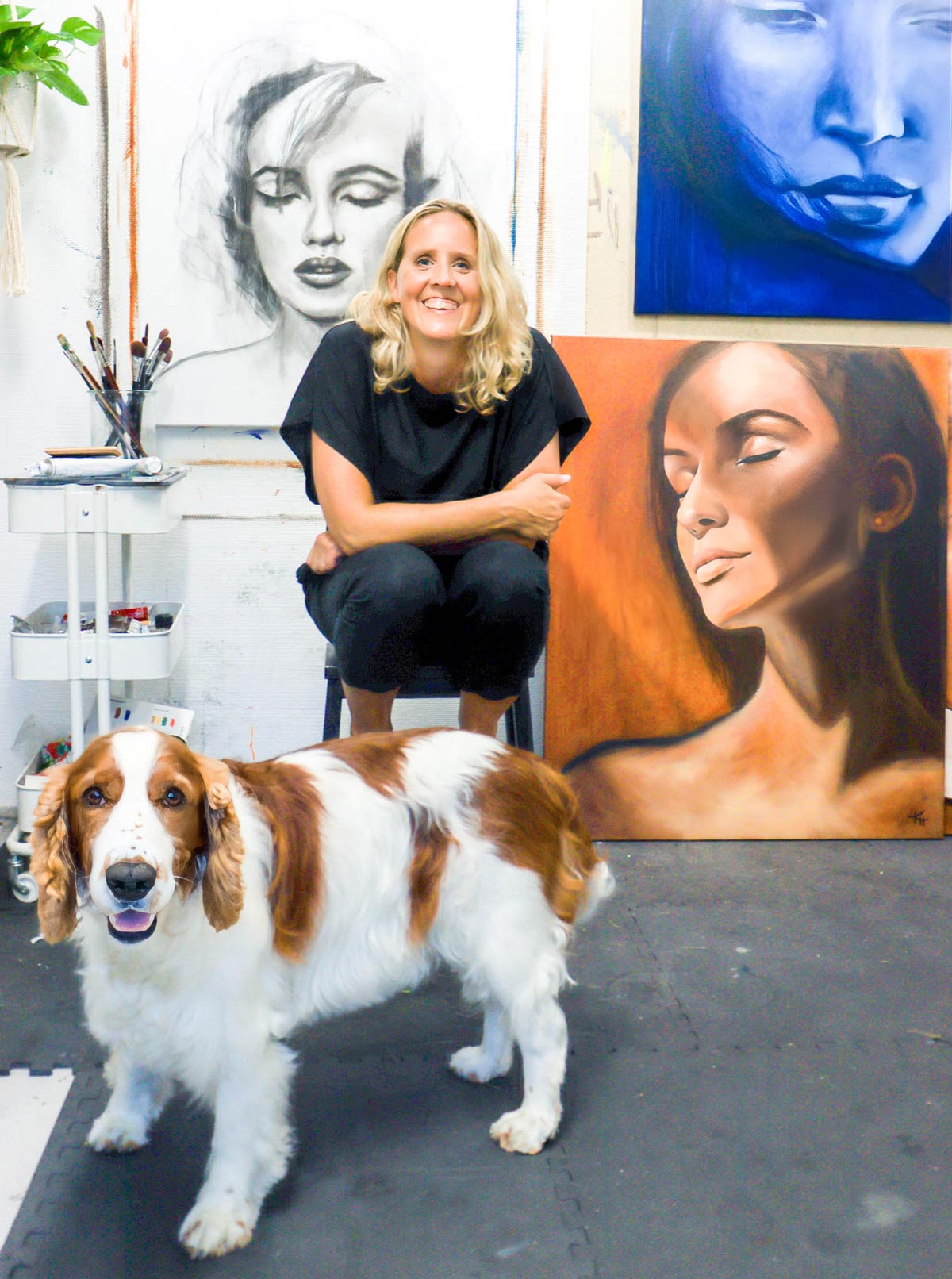 Hi, my name is Kirsi!
I'm a full-time figurative artist who believes in following your dreams and that we need to quiet down from time to time to connect to our inner selves. 
I believe that we need art because it helps us connect to ourselves and others.
I love oil paints and charcoal, dogs, and nature, and I prefer Cola Zero over coffee and the countryside over the city.
WELCOME TO MY STUDIO! 🤗
So how did I get here?
It was in the spring of 2015, that I drew this small portrait. I hadn't drawn for almost 20 years. As a kid and up to my early 20s, I drew and painted all of the time.
But you know, life happened. I started climbing the corporate ladder, searching for my place in the world. I thought I finally had it all figured out when I was promoted to sales manager, but was I wrong? The stress took its toll, and I ended up getting sick with all sorts of symptoms and also hypothyroidism. I had lost touch with myself, my inner voice drowned out by the noise of everyday life.
Fast forward to this day in May 2015, sitting at the kitchen table with my kids who were happily coloring away. I picked up one of the kids' pencils and just started drawing after almost 20 years of break from creativity. And there it was, that spark that my soul and heart had been craving.
Since then, I haven't stopped creating. For the past four years, I've been fully immersed in my art, working full-time as an artist and graphic designer. And now, I'm proud to say that I'm selling my artwork worldwide.
Painting and drawing have become my second language, a way to express my emotions, both known and unknown. It's like a bridge connecting my inner world to the outer world.
My mission
As an artist my mission is to give back what art has given me. I create unique high-quality paintings that I hope will connect to your true self and that bring calm to your beautiful home and everyday life. 
Get to know me more
I'M OBSESSED WITH
dogs. I just love dogs. Especially our dog Wille. 
PEOPLE ARE SURPRISED THAT
I'm fluent in Finnish. I was born in Finland, when I was 10 months old our family moved to Sweden. 
MY FAMILY MEMBERS' NAMES ARE
My husband Stefan, and our kids Lovisa and Oskar, and of course our dog Wille.
I CAN'T LIVE WITHOUT
Cola Zero, I'm not a huge coffee drinker and prefer a Cola Zero instead.
WHAT MAKES ME HAPPY
Besides friends and family, a walk in the woods, sailing & skiing, and painting of course. 
SOMETHING I'M PROUD OF
My family, and especially our 2 children. And that I dared to follow my dream to become a fulltime artist. 
MY 3 MOST USED EMOJIS
😍😅🤗
Customer review
"Thank you so much for the wonderful painting, it is even nicer than in the pictures!
I got the package from the post office this evening and was like a kid on Christmas Eve when I opened it! Wouldn't be surprised if I bought more of your amazing art in the future."
Tiina-Maria